Stanley are you serious! Are you talking about Christmas already… Indeed after reading the title: 5 money making ideas before the holiday. The answer is a big yes.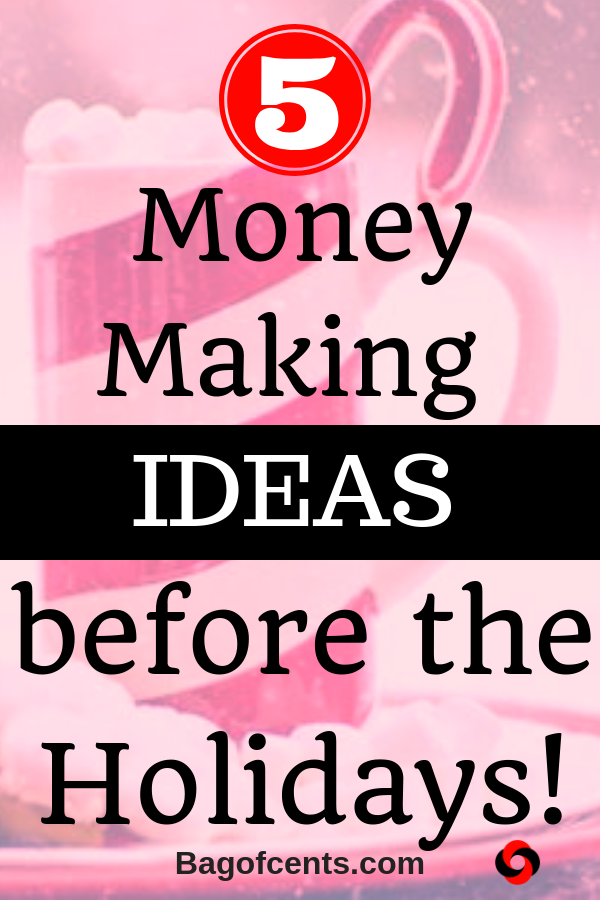 It is already september and Christmas is around the corner and better be ready than to be running left and right, not knowing where we are going to find the money to purchase some interesting items for the peoples we love.
It could be really expensive between Thanksgiving, the holidays, counting the traveling, grocery, clothings and so much more.Let's see the best ideas that could help us earn some extra money and even pay some debt while doing this exercise.
Let's say your goal is to have 1000$ before 15 of December, you would need a good 350$ for the next three months, it is doable if we have a proper game plan.
-5 money making ideas before the Holidays-
Sell your items (not use anymore)
This is by far one of the best way to generate some instant cash with items that you don't use around the house. We have so much belogings , this challenge should be easy to accomplish.
First step would be to look around in your house for items that you don't use, a good rule of thumbs is any items that was not use in the last 6 months ,would be a good candidate for a next life. Once you have your list of items ready, it is time to review one more time your items and select the ones that you could sell online.Tthe items that need to be sold in person and items that are not good or maybe recyclable to give to sharity.
Sell Online (Any electronics, clothings,car accessories and more)
Sell in Person (selling a car, snow blower,gaming console, gardening articles…)
Give to sharity (fixable items, game for kids/toys,shoes, jackets…)
We have a misconception that our stuffs are not sellable, my items look like junk, it's not even worth my time to sell it or the classic one, there is nothing around my house to sell.
Where to sell your stuffs?
Try a garage sale for your first option, always ask the city for a permit prior to have one. Also there some period during the year, that are best to have a successful event. At the start of the summer and right before the school start, is another great period to have a good gathering for your garage sale.
Have all your items label the right way with a clear price, keep in mind when peoples will offer you a price to buy  your marchandise. It will be lower than the price mark on your label so have your numbers ready before your garage sale. Have a margin of minus 20%, so if you sell a item for 20$ , you know the actual price will be 15$.
There is also a option you could try, is to sell your items on Ebay,you could even try Craiglist or your local newspaper. It is a question to try what is best for you, what you feel the most comfortable to do.
Look for extra gigs (Work)
This one is relatively simple, try to look in the local newspaper to know if there is any opening for a one time gig.Why the one time gig, you don't want to keep doing this kind of work over and over again but rather look at it to make a big amount for a one time contract if possible. (If it's a ongoing gig, the better)
Clean up services around houses ( remove branches,cut the grass maybe, clean the yard,small asphalt fix…)
Drive kids at school  (need to apply for a permit,background check, car inspection…)
Paint job (Could be inside or outside a house)
Language Teaching (If your a native english speaker and know french, this could be good)
It will take some hard work ,not making a lot of money but at least having some money is better than nothing and once the it's start adding up, it feel really good.
There is a lot of thing we could do but again lets not try to complicate thing but keep it simple.
Here is a example of a Gig in NY.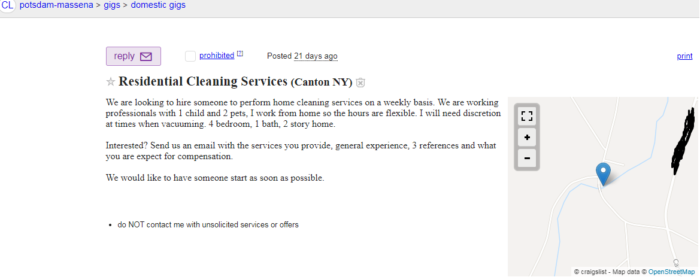 Work at the Store
The next 3 months are going to be really busy for any retails store in the country and why not take a look to work in a store front. There is a lot of opening since this is one of the busiest period of the year and they (retail stores) will need all the help needed, to be abble to respond to the increasing demand.
You could look at a store that you shop most of the time or a store that you would love to shop but seem to be to expensive. By applying to a high end store and by working there you will have access to extra rebates for the employees. So if you don't count your salary but the saving encountered when buying any items at a discount price is good for your pocket.
Don't look at this option as a time consuming option but in a way of saying to have piece of mind that you will have money for the holidays. Include  your family in the game of making extra money in the upcoming months so they understand how to help you and help them at the same time.
Uber maybe?
This is a option that is not for everyone but in away, had to put this option… Did receive some comments telling me ,i have to put some informations about doing some work yes but to get paid almost right away and not wait weeks to have some tangible money.
Driving around town could be a good way to discover your city and at the same time driving peoples around , even peoples you may know. There is nothing wrong in being a uber driver, just need to be inform and ready to take action once we have the ok.
It is totaly control by the app, you need to be a registered driver, all informations will be requested at signup to make sure you are compliant. You are in total control of the time you want to give to Uber, it could be 1 hour per week to 80 hours per week, it is up to you.
Transactions are cashless for most, all done from the Uber app… Once at the destination, peoples will just pay on the app directly with the assign driver. A really good option.
The only draw back is the depreciation of the car, as we all know by driving a lot, our car lose value at the same time, keep that in mind. But again, when you count the holiday season coming, it is the perfect option.
Rent a Room in your House
This is not for everyone but could be a excellent option to have some extra money to help pay the mortgage or the rent. Peoples are facing all sort of situations in life and when it hit, you don't even know it was coming and what you do from there you try to get back up on your feets.
By offering a temporary space,your helping someone with a smaller budget in hand.
To feel secure, do a background check on the person you intend to rent the place to. You need to feel safe when you have a stranger in your house of course. Why not rent the extra room to a friend, family member, or helping a aging mom's or dad's (seniors) staying in a house retreat.
Extra
The holiday season is around the corner and why not take the time today to see what you could do, to be ahead of your goal that is: don't use your money but have extra money that is not part of your budget. You don't need the extra,why not use it for sharity:)
It is not always about the money but what we do with it.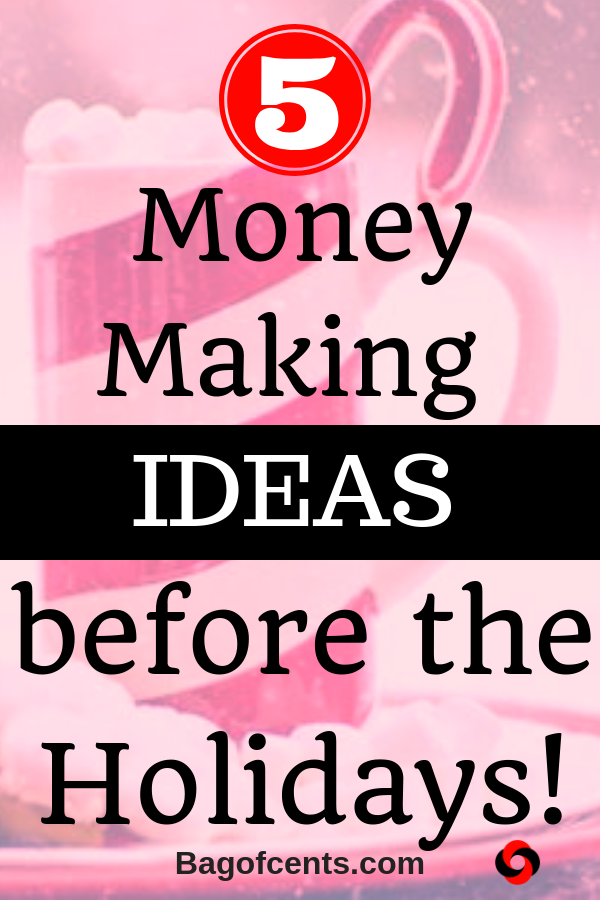 Be safe as usual.
Stanley
Popular posts on Bag of Cents: