6 items to sell to make money around your house.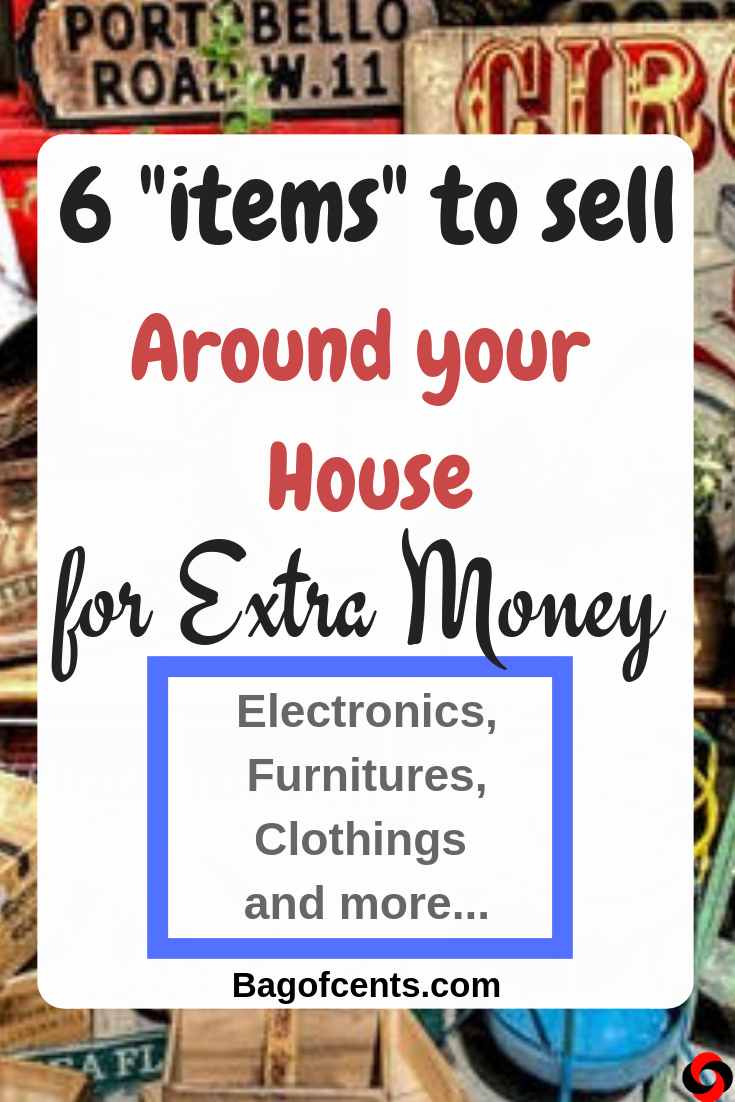 I was thinking this morning on what to talk about that is important enough for my readers, when thinking about the holidays that is around the corner. There is no question, that we need to have some extra money for this nice period of the year.
To see family members, to have some days off, rest, enjoy the food and so much great activities. We all have challenges in our lives, money struggles, unexpected situations arriving,so much to deal with sometime. Why not look around the house and see, if we have some articles that we could part ways and make money at the same time.
You coud also use the money to pay some debts, late bills, to get ahead, vacations,your dream watch…You name it but the idea is to take action on what we think could sell and how long do we plan to make it happen. Usually as a good role of thumbs, let's say a week is a fair time to sell some items.
You could sell your items with:
Garage sale
Online (Ebay, Craiglist, Kijiji and even Amazon)
Local Newspapers
Tell a friend about a item that maybe could be of good use for them
Used electronic stores
So much more…
It doesn't need to be complicated, i like to do things the simple way.
Let's see what are the top 6 things to sell ,make money and you don't have to wait ages to get paid but have your money within 24-48 hours to the maximum. It is good to find ways to sell stuffs but sometime we are struck by the delay ,we have to wait in order to get paid. It was taking into consideration during my research for this article.
Electronics
There is many electronic articles in the house, it is just crazy when you think about it… Looking for articles that are not in use, could be challenging but again ,do it with a open mind. What electronic articles  we could sell in the house that is easy to put on the market for quick exchange so you could make money today.
Cellphones ( Did you trade you old cellphone, it is probably in a drawer somewhere)
Laptops (Still have your old laptop or tablet, why not sell it… )
Computers ( get rid of this old Big box, it could be use for schools or to be sent in third countries)
Cameras (Surprisingly, we all have a old camera somewhere…Cellphone is taking over. )
Tv's (Flat Screen TV is the norm but what about your old Tv, seating in the basement, why not sell it)
Clothings.
The infamous wardrobe in the house, so much clothes in there without counting all the other items located around the house, that is not beeing use. If you look around ,surprise is not the word! There is a lot more clothes in your house that you could think is possible.
How to declutter your house from old clothes or how to go around it?
Separate old from new, this is a good exercise to know what you really need to keep.
Categories
Wich seasons
To go out
For work
Week end activities
Sport clothings
more…
Keep it organise, once you have let's say on the floor or in separate boxes the different categories of clothing, it is time to separate the good from the bad. When i say bad, keep in mind the article that you want to sell should be in good condition, doesn't mean if it's not good for you, it will not be a great  investment for someone else.
Did the same mistake in the past, think a article was not good to my eyes but someone knew i was getting rid of the item,the client was ready to take it on the spot.
Furnitures.
It could be hard to think, you want to sell your furnitures but let me tell you, surprise… It is such in demand, that even myself was so surprise by the quantity of request received from items that is beeing sold online.
As a example: Your a young student moving out of your parents kingdom and decided to take over the world and have your own appartment. To stay on budget, you could head over to online shopping like Craiglist, Ebay or even your local newspapers or local websites selling used items.
Selling a couch could be difficult but the way to do it properly, is to have compelling pictures, to show all the angles around the couch to show any major flaws if there is any. To list properly the article with decent informations, why your selling the item (couch) so the person looking at your add will already feel that he or she will be owning your furniture.
Always put yourself in the shoes of the person reading your ad.
Why this person is looking for a couch?
Specific colors?
Conditions, need to be good or fair is ok also?
Here is a example of a ad,selling a couch:
Good looking brown leather couch to sell this week [700$ negociable] and moving included.
Why did i wrote moving included, this will give me 80% more chances to sell my items compare to someone whos just putting a couch for sell and expect to have someone calling them.
There is even personaly own little business offering a small move like a couch, a fridge for a small fee. By counting this expense in the listing ,it is easier to control the price .
Mores.
There is so much to sell in a house , what about all the other great articles in the house that we could sell that most of the time, we are not even using…
Movies…
Why would you want to sell your old dvd stacks, seating in the basement, hidden in a box for ages… To be put in good use for other peoples to see. Another thing that we have tendency to forget that not all of us are lucky to have cable or have access to the internet ,they rely on watching movies to be entertain and it is understandable.
Books…
This is interesting, looking in the house for books and you should have a huge pile of them. Some will be in  excellent condition , even brand new in some cases. Why not put it to could use and sell them, to schools prior for the new session to start, it is a good way for students to save some money on school tuition.
We all know it is so expensive to habe books today for school .I'm not even talking about the other items you may need for school (laptop,school bag,…).
Sporting equipments…
Sports will always be part of the old, actual and futur generation that we want it or not. Even if your not doing any sport you must have a friend or family member that did some sort of sport activities in the past or present. Looking around the house,even in the garage and see if there is any sport equipements that is not beeing use anymore. Those items could be put in good use for the youngsters starting in their favorite sports.
Even giving the sport equipments away could be really rewarding and fufilling to do, once you know the cause behind your great actions, if we are talking about kids it is even easier to accomplish. Do your due diligence when giving any equipments away and validate, it will be given to the kids and not put in a used stores to be sold .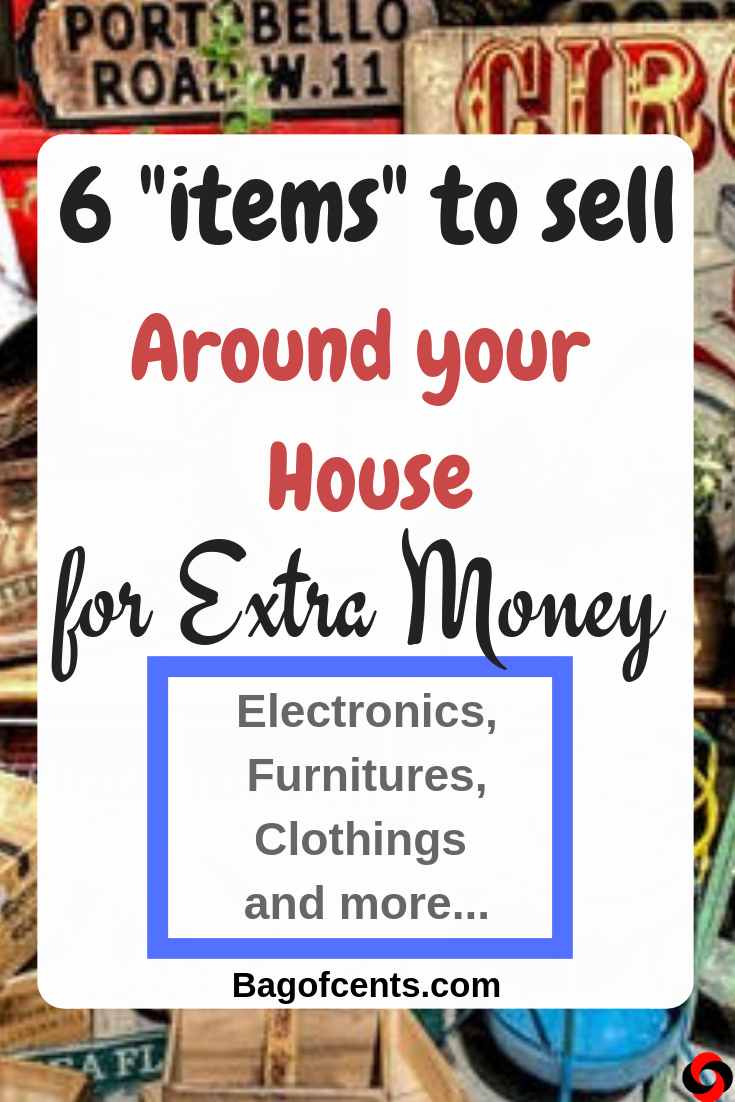 Your House.
When looking around your house, there is always something to give away or to sell, it could be time consuming. Again so rewarding to know , you will have extra money coming your way for the effort. Including items you already have around you.
Think of this, as a second life for your items!
Be safe out there,
Stanley
Popular posts on Bag of Cents: