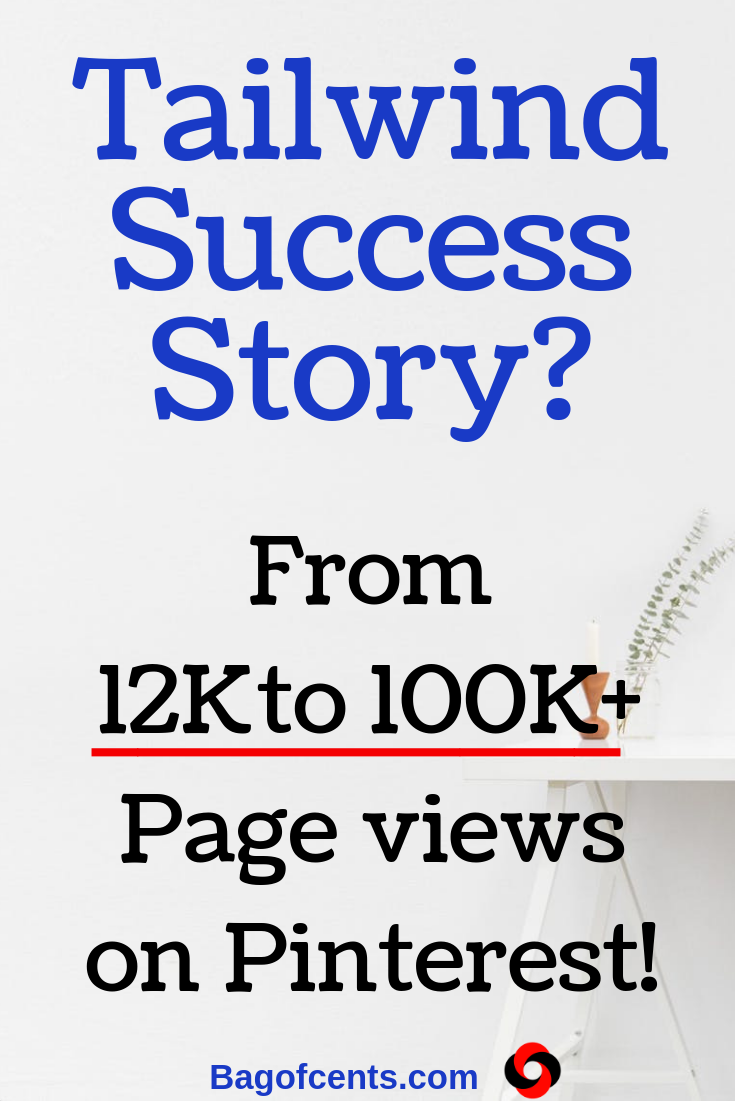 Tailwind Success Story from nothing to everything!
As i'm writing this Tailwind Traffic report, i am now close to 118k Page Views from Pinterest,YES!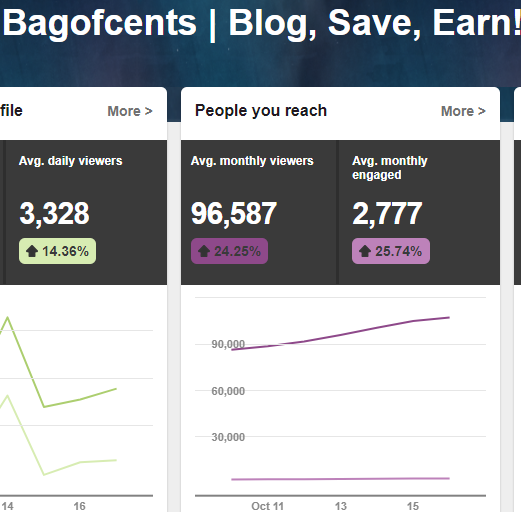 This is amazing to know it is faisable when you put effort and dedication onto something. I must admit i was a bit skeptical about all the claims, i have seen under the Pinterest cloud.
I made this much, i have this much traffic, i'm making a full income as of last month and so on…
I'm abble to confirm, it is really true and really fun to notice, i am part of the real peoples making something good out of Pinterest.
Don't get me wrong, i was really not into pinterest to generate traffic for my blog but i decided to give it a try.
Did i took a blogging course to make it happen? And the answer is no!
Will i take a course in the future? Yes i will and will take one in November 2018. More info on this later…
Let's dive into, how i was abble to increase my traffic with the help of Tailwind.
Decisions.
I took a decision to try Tailwind even  if  i was already doing my thing under Pinterest by manually pinning and following the trend under the sun. My only concern was, i didn't always have the time to PIN at night and was becoming a problem for me. I started looking around to find a solution until i came accross a article talking about Boardbooster.
Really interesting information but today this program no longer exist, so i kept looking for another company and most importantly , a approuve company by Pinterest. Don't want to drive all this effort and at the end to lose everything. Will not go on this route, there is tooo much work involve toward my blog since is beginning (July 2018).
Eureka: I finaly find the right program to work with called Tailwind and let me tell you it did change my perception around a lot of things.
Free to start for a month.
This was the main factor why i decided to try Tailwind in the first place. It was free to try, yes you need to provide your credit card information…
PS If you don't have a credit card, look online for companies around who are providing credit card with prepaid funds. This will give you the chance to have your own credit card to use for any purchases, articles , subscriptions or softwares online.
Once my information was entered , it was time to look around to see if this little program could help me succeed with Pinterest and grow my business.
To be honest, i didn't do much for a good 2-3 weeks before putting more effort into it and learning all the bell and whistles.It is by looking around and testing you will get the most benefit.
To my surprise, my results were so interesting at first, i decided to look deeper into learning Tailwind.  Once you have a good formula why not work with it. That's why i decided to work on it for a good month.
Want to try it for FREE , follow the link but there is more.
See my actual numbers… 71.3K monthly viewers (15 October , 2018)!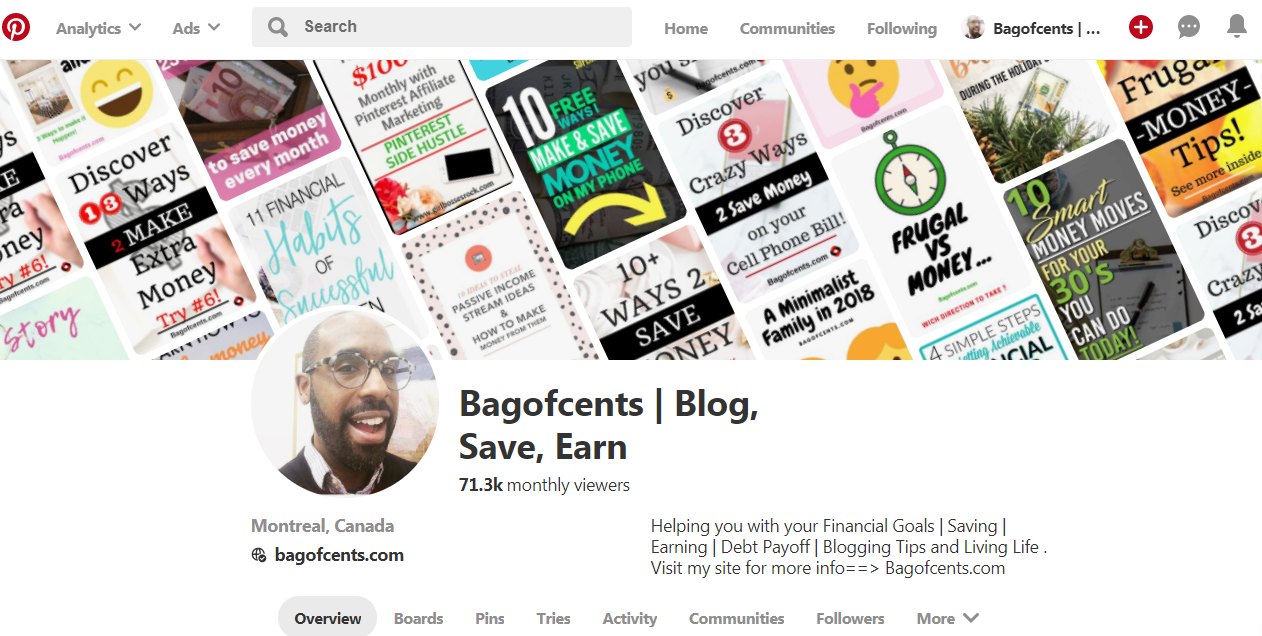 See my actual numbers… 118.7K monthly viewers (23 October , 2018)!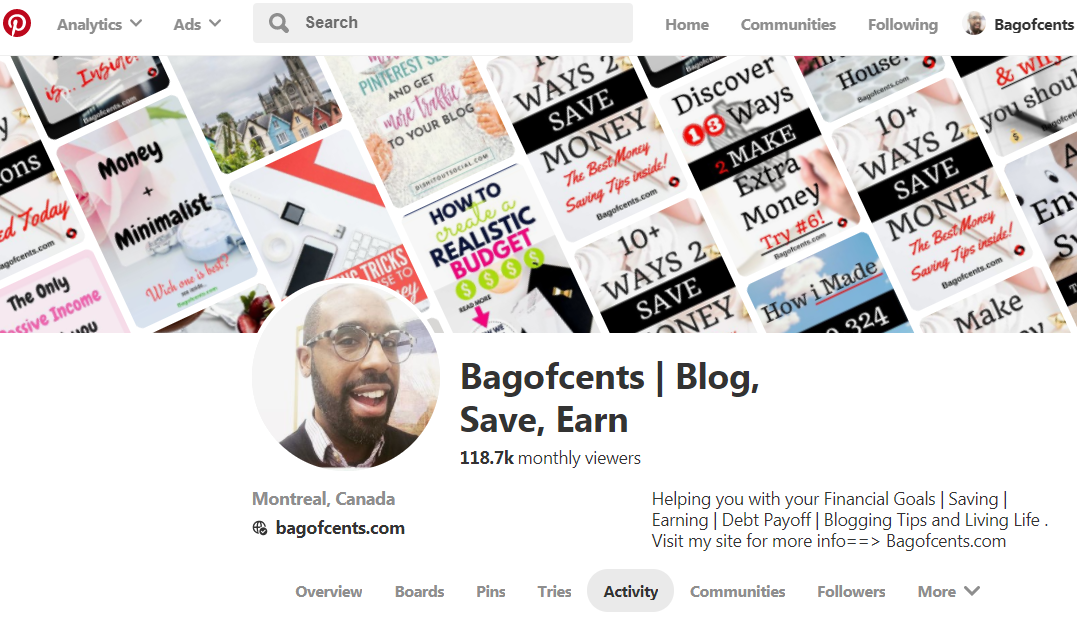 My graph under Pinterest…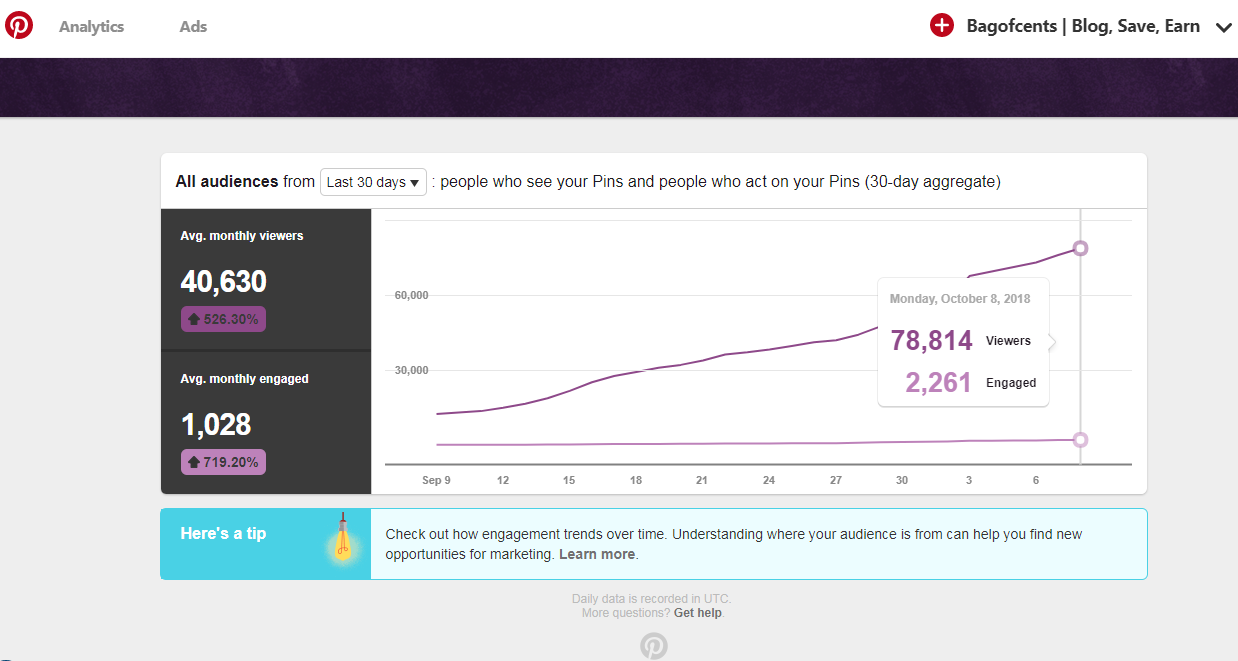 I should be abble to hit the 100k before the end of the month ,October 2018. This is one of my goal and after will see.
Update, it is done and i'm really happy!
What i did?
Learn from other bloggers that had great success under Pinterest but also under Tailwind. I don't consider myself a expert but i took the time to analyse what was going on, on Pinterest, the trends, wich colors to me were the most attractive. What pins are coming in my feed the most, why some have more success than others.
Apply some simple principles.
Actions.
It is easy for me to say i got this much traffic on Pinterest but is there a course or something i could recommend to someone to start with. Of course there is a course called Pinterest Ninja, that seem to be a great source of information. She had created her course in mind to help others succeed under Pinterest and she walk the talk as they say.
See the actual recommandation page and read the full information.
Will myself get the course,even if it's only one thing that will give me a advantage, it is all worthed. Don't think you will not have any benefits of getting the course, by catching one word, one phrase you could be on your way to success.
https://lovefamilyhealth.lpages.co/pinterest-ninja/
The good part also is, you could recommend the course to other fellow bloggers and readers, if you are genuine,you believe in the product ,peoples will get it. Always, always , speak the truth and the rest will come with it. I don't pretend to know everything, i do my research with a lot of heart so i know, i'm no giving bad recommandations to my loyal readers and i do appreciate it.
Don't want to spend any money? I understand…
Follow the free Pinterest training:  ==> https://www.tailwindapp.com/dashboard/education/sso
Tailwind Success.
Learn how tailwind work, this is a major part of the success i had so far… I took the time to understand how to work with the system , it was a slow process at first but now i understand properly this great program.
Take it one step at a time, it is not a race but by doing the small steps on a daily basis, it will work in your advantage. You will notice,little things that if you went to fast,you would have miss.
See my long list of steps to have the right success.
Your Pinterest Account
Have a picture of yourself and not a logo, people will identify to you and not your logo
Have a good description for your Pinterest profile
Upgread your account to a business account, this will give you access to more in depth information
Configure the rich Pin on your Pinterest account, will give you more visibility
Organise your group Boards with proper title and keywords descriptions
Organise your group Boards main pictures for more branding aspect
Have at least 50 pins per personal board you have
Just by doing this, you will have greater chances to succeed on the Pinning game.
Your Tailwind Account
Verify your information is acurate
Have a welcome message to say hi to other fellow members
Search for a tribe to join around your expertise or Blog Sector
Add one Pin with proper description,good picture and assign website link to your Pin
Look to see other pins in the tribe
Schedule your first automated PIN
Look at each and every link under Tailwind to understand each of them
Check the actual insights on the left (Similar to analytics on Pinterest)
Simple but effective ways to start with Tailwind.
Just try and see for yourself…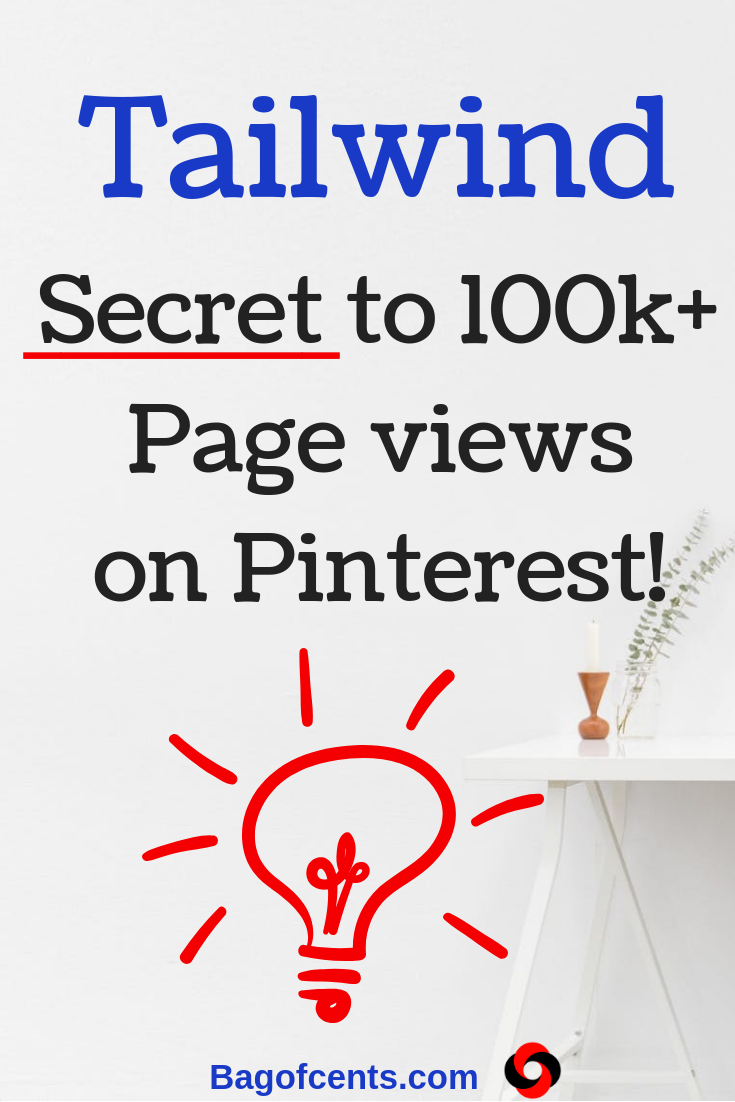 Results.
What more i could say? When there is effort put toward something ,it should work. Don't put any pressure on your back, if you decide to try out ==> TAILWIND FREE TRIAL ,be patient and take it ,one step at a time.
After 2-3 days, you should be more comfortable to work around Tailwind and at the same time continue to work your Pinterest account. There is always something new to learn or implement to better your results.
Observe other pinners, what they do, what kind of pictures they have, the color that catches your eyes,what attrack you under Pinterest. Follow your instinct when you are browsing the Pinterest feed ,if you want to save a Pin in one of your Board. Is that going to bring value to my Pinterest following, that is where the magic is.
What's Next?
Will continue to follow my simple strategy and in a couple of months i should be in a good position to have a lot more traffic coming from Pinterest.
What you should do?
Just try the simple key notes given in this article for a good month and see what are your results. Continue your manual pinning under Pinterest, even if you are using Tailwind . Hope your results will be as good as mine.
Enjoy your day,
Stanley
Popular posts on Bag of Cents: